The BRAINS program welcomes each new cohort into the community through the BRAINS counterspace foundation for both participant pathways. The counterspace foundation develops community and comprises intentional engagement with peers, senior scientists, topical experts, interactive professional development workshops, personal reflection activities, group discussions and structured coaching. The counterspace foundation is established with a multi-day Launch Event and Peer Coaching Circles.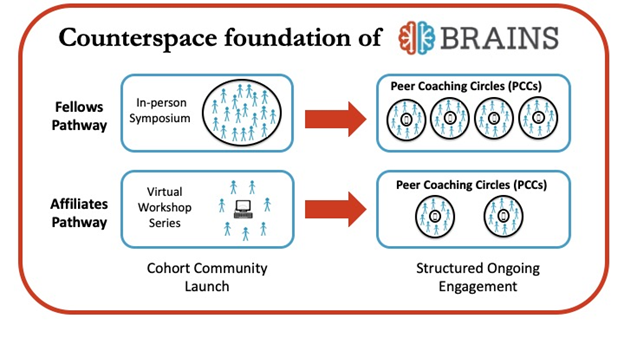 Launch Events
Each Fellows cohort launches with a Fellows Symposium - an in-person immersive, four-day professional development symposium retreat with senior panelists and topical experts. The Fellows Symposium format of highly interactive panel discussions featuring senior scientists, small group activities, skill-building workshops with topical experts, personal reflection, shared meals, and community building activities is designed to support community connection and professional development.
Each Affiliates cohort begins with a community-centric Affiliates Virtual Workshop Series - three interactive workshops and panels on core BRAINS professional development topics. This launch experience provides Affiliates the opportunity to develop an online community, build skills, and engage in a common professional development experience.
Peer Coaching Circles
Peer Coaching Circles (PCCs) are a self-sustaining, peer-led experience where participants gain momentum toward achieving their goals, deepen their listening skills, develop coaching skills, and build a trusting and empowering community of peers. Peer coaching circles meet regularly and use a structured format that engages participants in reflective practices and creates personal and community accountability to support personal and professional growth and success. Fellows and Affiliates are invited to join PCCs with other members of their respective cohorts after their launch event.